YOUR GUIDE TO ON-MOUNTAIN DINING IN PARK CITY
Keeping you properly fueled is key to a great day on the mountain, and Park City Mountain Resort and Deer Valley have a variety of dining options to make that happen. Whether you are looking for an award-winning gourmet lunch or a quick ski-in, ski-out bite to eat, the following guide to on-mountain dining in Park City will help you navigate your way to the perfect meal. A lift ticket or season pass is required to access on-mountain restaurants. Due to local restrictions on capacity limits, we highly recommend that guests bring their own snacks and water.
POLICIES
Capacity is being managed at all PCMR dining facilities in accordance with local and state regulations. In many cases, this capacity could be significantly reduced – plan ahead!
To see availability and book a mealtime, visit: Time to Dine or access through the EpicMix App.
PCMR will only be offering packaged beer and wine
For the consideration of others, masks are required except when eating or drinking, and you are asked to head back out on the hill when you're finished eating to allow for another guest to grab a spot.
At Deer Valley: indoor dining operations have been altered with tables spaced for physical distancing and limited capacity. Grab and Go options are available, allowing for take-away and there is first-come, first-served seating on outdoor decks or in heated tents. All outdoor decks that are not tented are outfitted with fire pits and heaters to accommodate additional outdoor seating.
ON-MOUNTAIN DINING OPTIONS
PARK CITY MOUNTAIN RESORT
Lookout Cabin: Near the mid-station of the Orange Bubble Express. Fine dining restaurant known for its table-served Rocky Mountain cuisine and incredible views of the Wasatch Range. Hours of Operation: Thursday – Monday 11:30 AM – 2:30 PM
Tombstone BBQ Base of Tombstone Express. Take out window serving authentic BBQ smoked daily. Serving brisket, pulled pork, smoked wings, and beer. Hours of Operation: 11AM – 3PM
Legacy Café: Park City Mountain Village. The spot for all levels of skiers/riders and non-skiers to meet for breakfast, lunch, or a snack. Café-style breakfast and lunch service.  Breakfast 8AM – 10AM, Lunch 10:30AM – 3PM
Miner's Camp: Base of Silverlode Express and Quicksilver Gondola. A convenient stop for the whole family with a patio tent and ski beach to sit back and relax. Hours of Operation: 9 AM – 3:30 PM, Lunch 11 AM – 3 PM
Mid Mountain Lodge:  Base of the Mid Mountain Meadow Trail, near Pioneer and McConkey's Express
Our oldest lodge, established in 1896 and recently renovated to display our Mountain's extensive mining history. Hours of Operation: Thursday – Monday 9 AM – 3:30 PM, Lunch 11 AM – 3 PM
Summit House: Top of Bonanza Express. At 9250' elevation and accessible from five chairlifts, Summit House is conveniently located for a midday break, with a large patio to take in the view. Hours of Operation: 9AM – 3:30PM, Lunch 11AM – 3PM
Cloud Dine:  Top of DreamCatcher and DreamScape Chairlifts. A modern lodge offering an incredible mountain backdrop of the Wasatch Mountains. Hours of Operation: 10 AM – 3:30 PM, Lunch 11 AM – 3 PM
Red Pine Lodge: Top of Red Pine Gondola. A spot for skiers and non-skiers alike to enjoy lunch on the mountain, with a 2nd-floor outdoor patio. Hours of Operation: 9AM – 4PM, Lunch 10:30AM – 3PM
Sun Lodge: On Eclipse Trail, near the base of Sun Peak Express A spacious mountain lodge off the beaten path, featuring grab and go options. Hours of Operation: Tuesdays – Wednesdays, Friday – Sunday 9 AM – 3:30 PM, Lunch 11 AM – 3 PM. Closed: Mondays and Thursdays.
Umbrella Bar: Canyons Village Base Area. Offering burgers, wings and other quick comfort food items. Open Daily from 12 PM – 5 PM
DEER VALLEY
Snow Park, Silver Lake and Empire Canyon Lodges are open and serving lunch for the winter season. Silver Lake Lodge has grab and go coffee and pastries available for breakfast. Snow Park and Silver Lake Lodges will have heated tents with first-come, first-served seating available. The day lodges operate as full-service restaurants with table service and a full bar is offered from 11:30 a.m. to close. Credit cards are the preferred method of payment. Reservations are strongly encouraged and capacities are reduced.
Lunch is served at Royal Street Café (RSC) daily from 11:30 a.m. to 3:30 p.m. Après-ski and dinner are not offered this winter at RSC. Reservations are strongly encouraged and capacities are reduced.
Breakfast and lunch are also served at The Goldener Hirsch Restaurant located inside the Goldener Hirsch and reservations are required.
Grab and Go options will be available to purchase from Etc. at Snow Park Lodge and Silver Lake Lodge outside the main dining areas. Guests can eat on the run or grab a table in one of the heated tents or on outdoor decks. Advance mobile ordering will be available for these areas.
EBS Lounge will be offering après-ski from 2:30 p.m. to close; reservations are required. A selection of wine, beer, specialty cocktails, and a limited après food menu will be available via table service only. Credit cards are the preferred method of payment.
All outdoor decks that are not tented will be outfitted with fire pits and heaters to accommodate additional outdoor seating.
PACK YOUR LUNCH
Another option for on-mountain dining is packing your own lunch. Wake up a half an hour earlier and put together a satiating lunch that will keep you going throughout the day. Either grab a day locker and store your lunch there or bring a backpack. You can eat pre-packaged or homemade lunches at outdoor picnic tables on the mountains. And sometimes the best lunches are a smooshed peanut butter and jelly sandwich that are fully enjoyed on a chairlift in between pow harvesting runs.
Other items to bring with you for a full day on the hill:
Water!!! Helps with the altitude adjustment and dehydration.
Snacks easy to pack and store in your pockets or backpack.
Other essentials to get you through a long ski day: Advil, caffeine supplements, electrolytes, Swedish fish.
Extra warmth supplies: hand and foot warmers, hat, extra neck gaiter when your first one gets too wet.
Chargers / portable batteries
Extra face mask(s)
HEAD BACK TO YOUR ABODE FOR LUNCH
One of the perks of staying in an Abode that is near the mountain or ski-in/ski-out is the opportunity to head back to your cozy home, warm up, and create a luxurious meal in your own space. We've highlighted a couple of Park City Mountain vacation rentals and Deer Valley vacation rentals where you can shush right over for mealtime.
The 20/21 winter ski season has finally arrived and is in full swing. All 10 of our world-class ski resorts in Utah are now currently open. Nonetheless, things do look a little different this year. Every resort has different policies in place so you're going to want to be sure to check your desired location and plan ahead on your Park City Utah trip this year.
Click below to see more of Utah's resorts' 20/21 winter season policies and procedures and discover how to plan your next adventure.
Alta Ski Area, Alta
Beaver Mountain, Garden City
Brian Head Resort®, Brian Head
Brighton Resort, Brighton
Cherry Peak, Richmond
Deer Valley® Resort, Park City
Eagle Point Resort, Beaver
Nordic Valley, Eden
Park City Mountain, Park City
Powder Mountain, Eden
Snowbasin, Huntsville
Snowbird®,Snowbird
Solitude Mountain Resort, Solitude
Sundance Mountain Resort, Sundance
Woodward Park City, Park City
Winter has arrived and we are beyond excited!! Our mountain towns just received 20 inches of snow with more on the way! AND we are about 10 days out from opening day at Park City Mountain Resort! If your family prioritizes skiing and snowboarding while visiting, then easy access to the slopes is a must. Stay at Park City slopeside with us as we have many properties that can get you as close as possible to the action with near mountain, on-mountain, and ski-in/ski-out access. Staying close to the mountain makes logistics much easier, one less thing to think about while you are on vacation.
PARK CITY SLOPESIDE RETREATS
ABODE AT GRAND LODGE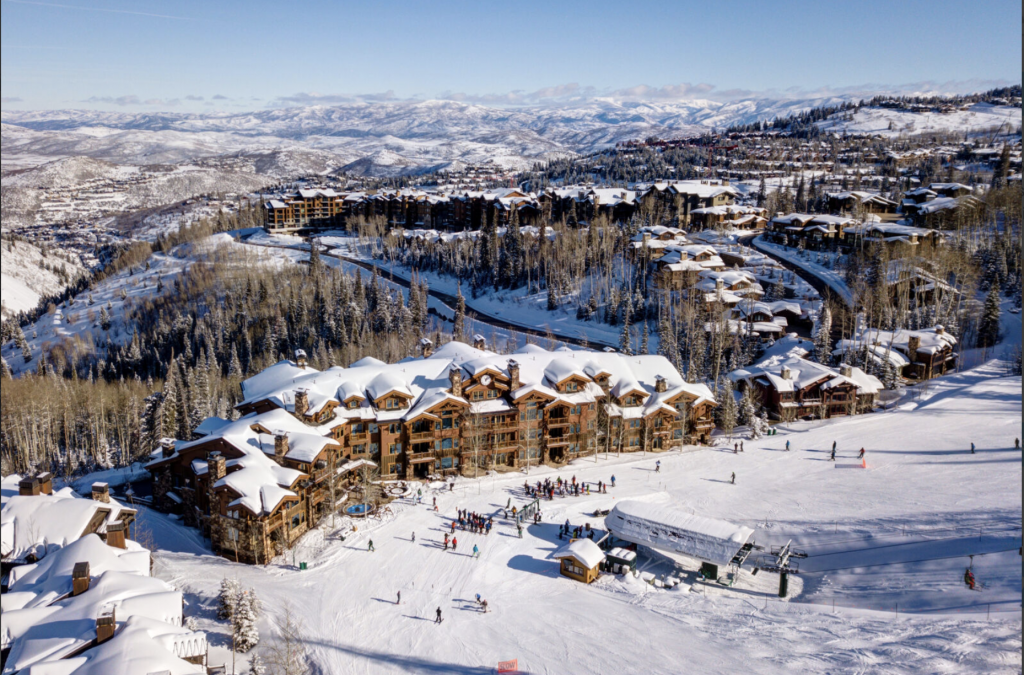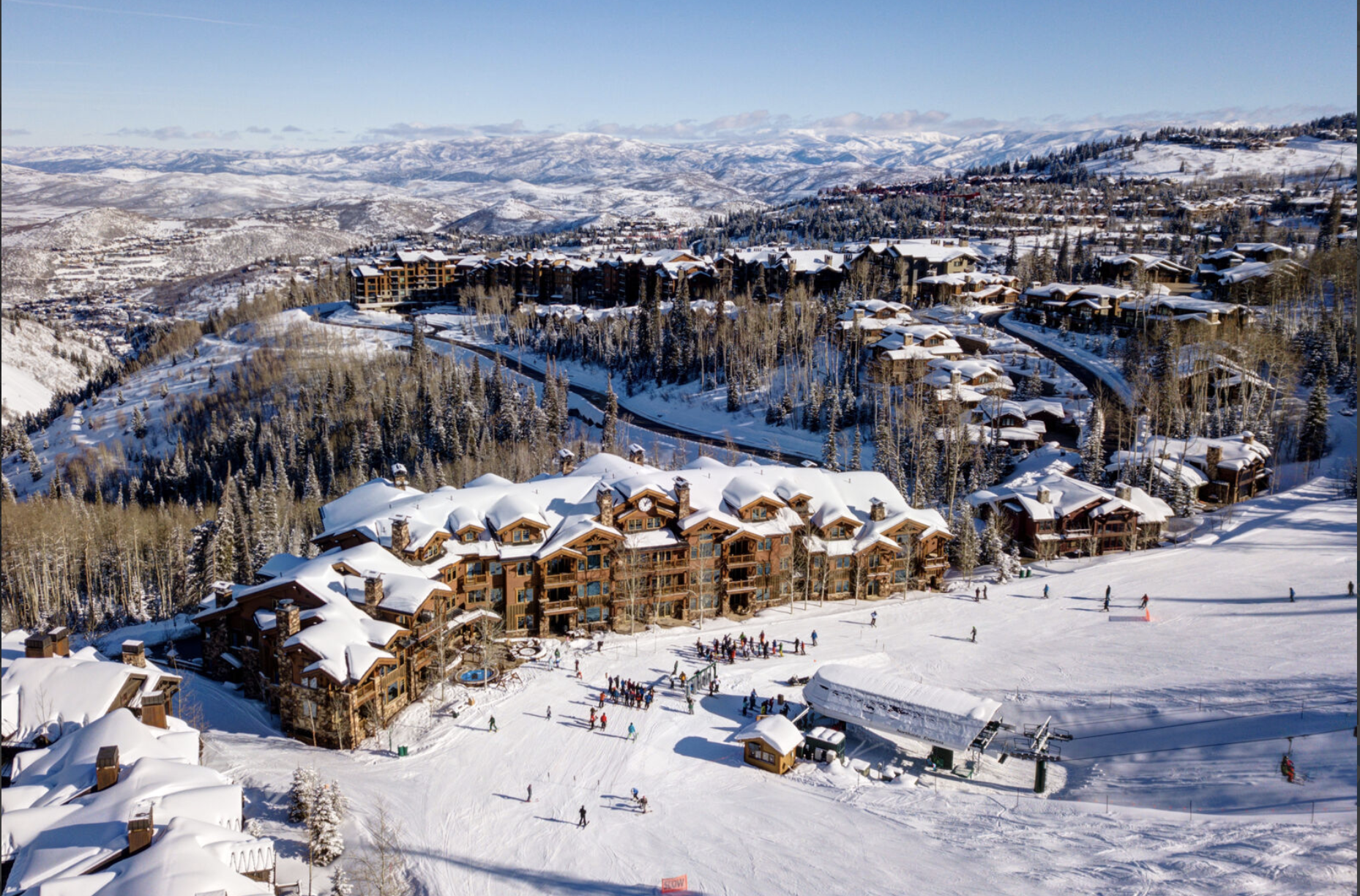 Nestled in the Empire Pass area of Deer Valley Resort, this luxurious ski lodge sits at the base of the Northside lift where you can directly access the widest variety of terrain at Deer Valley Resort. Abode at Grand Lodge brings new meaning to luxury with our top floor five-bedroom residence. Enjoy the perks of the ski locker room, common area hot tubs, and complimentary shuttle service around Park City.
BLACK BEAR LODGE BY ABODE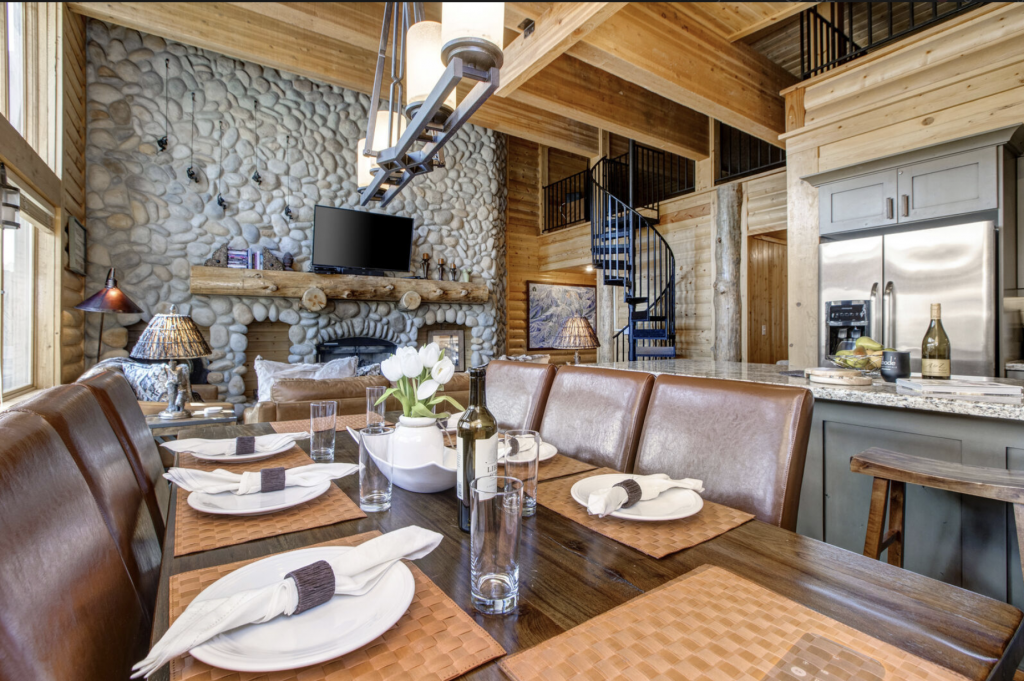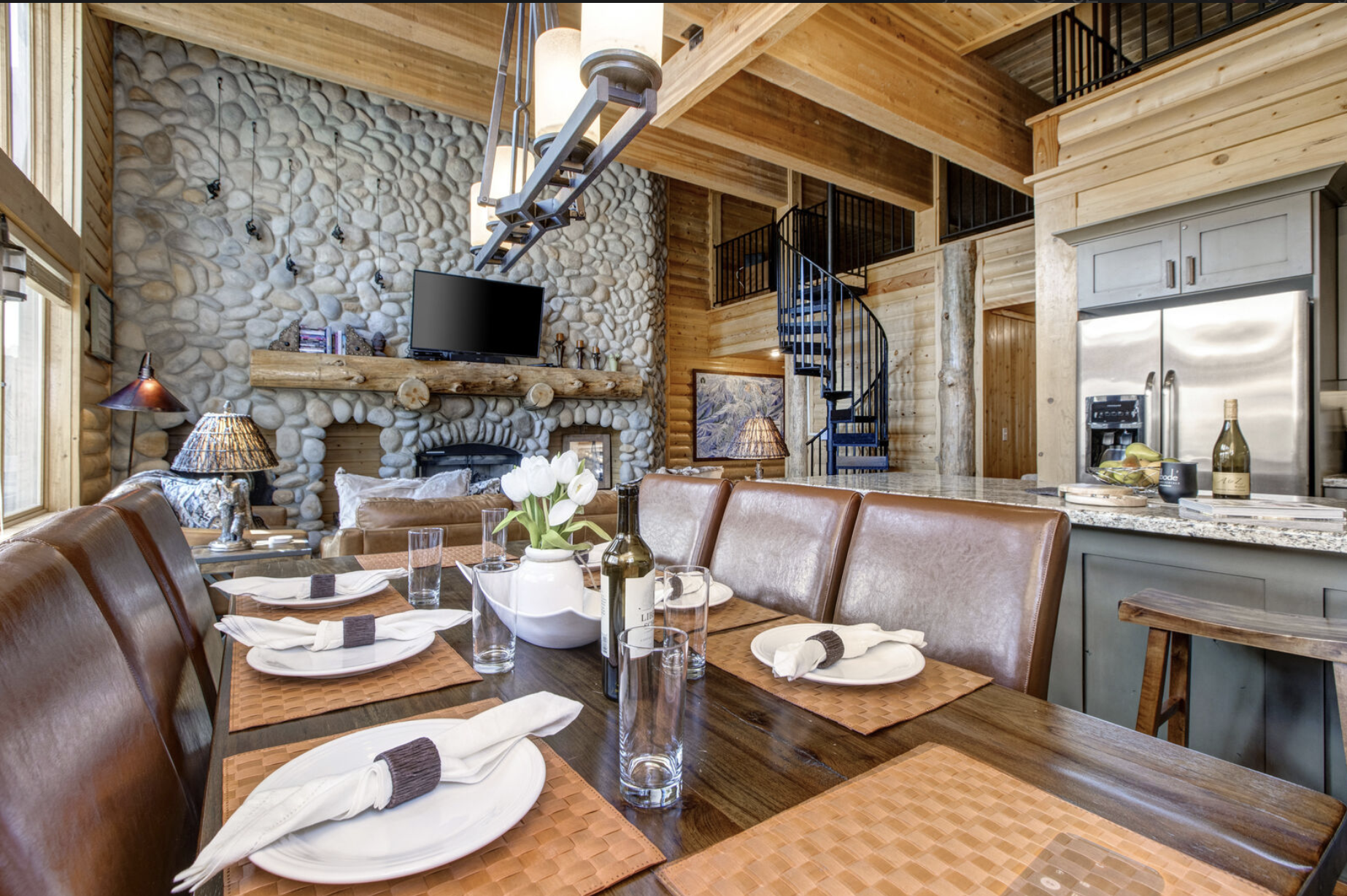 Enjoy a stay at one of our many properties at Black Bear Lodge.  The log exterior is reminiscent of the grand old lodges of the American West and is a favorite destination in Deer Valley Resort's Silver Lake Village. Located just across the street from the slopes book a getaway that checks off of all the boxes for a great Deer Valley ski trip!
ABODE AT IRONWOOD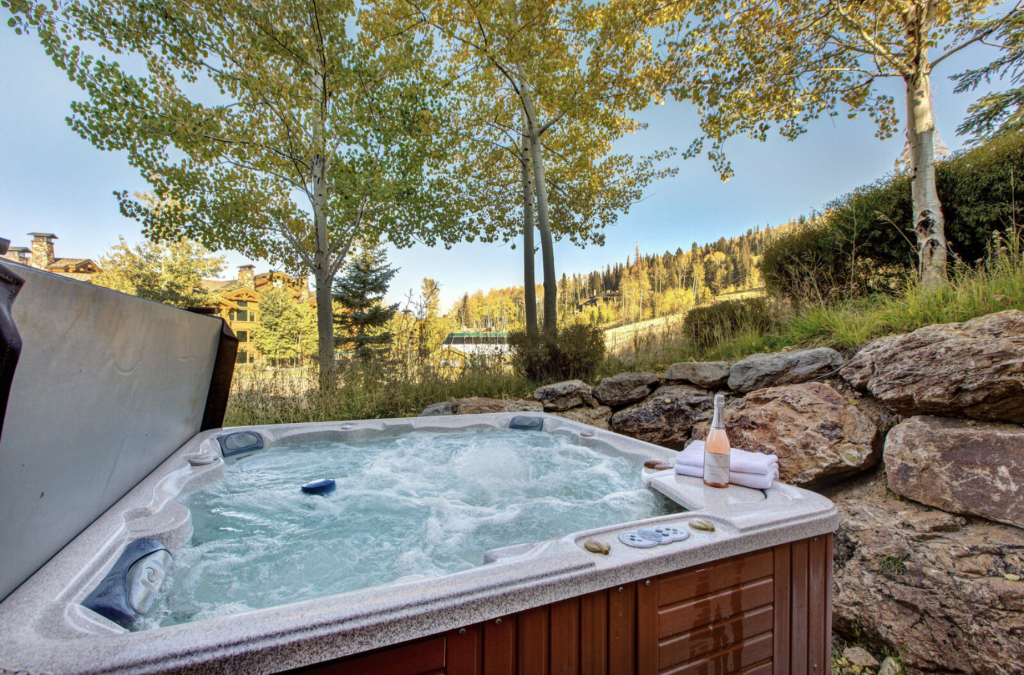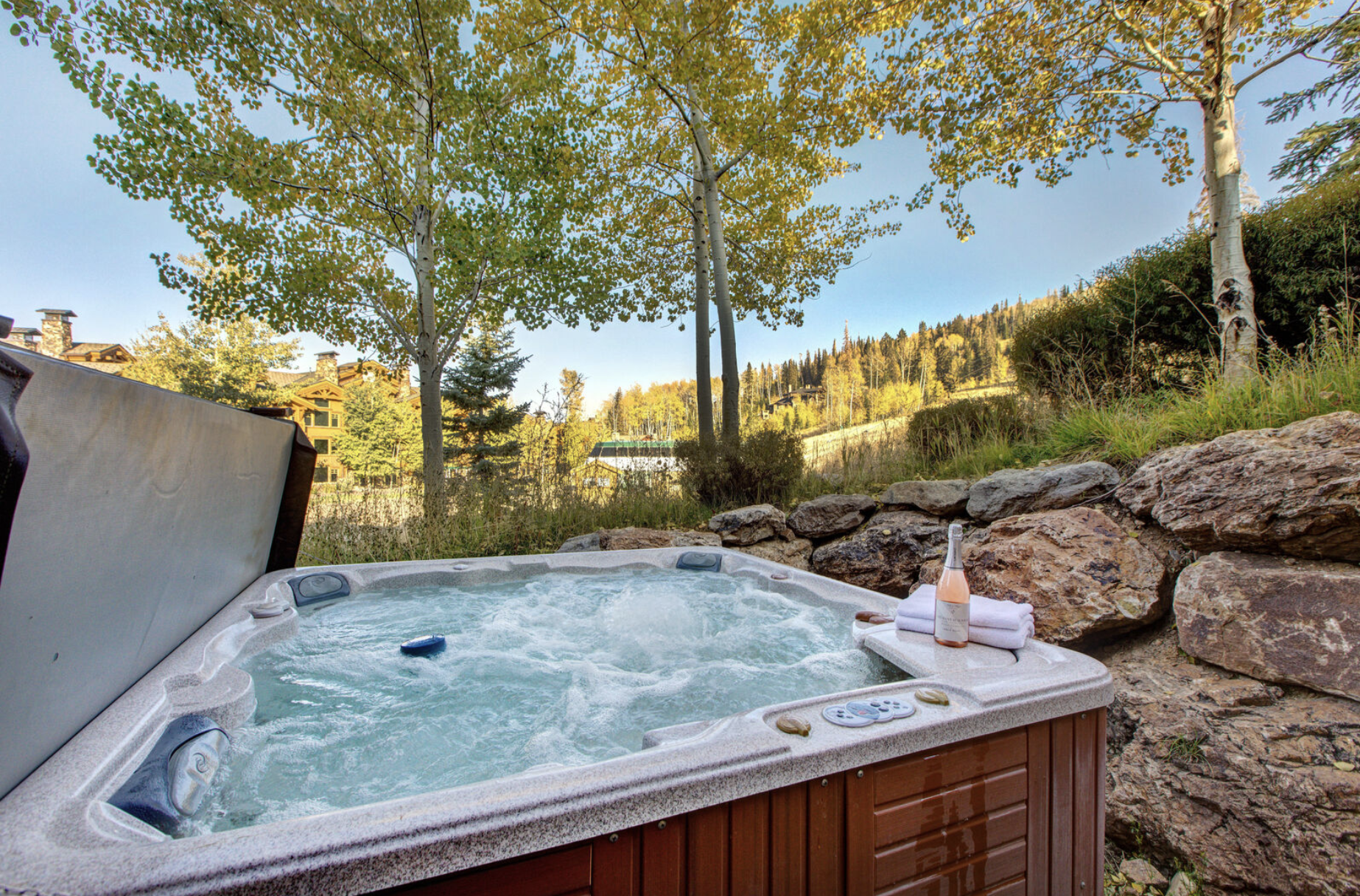 Imagine spending the winter enjoying time spent with family and friends while staying on the slopes of Deer Valley. Abode at Ironwood is an exquisitely remodeled 5 bed, 5.5 bath home that sleeps 12 and is located right on Deer Valley's coveted Northside Chairlift 'Ski Beach'. Not only do guests have direct access to Flagstaff Mountain Peak's variety of Green, Blue, and Black ski runs, but also to the Lady Morgan section of Deer Valley which provides some of the best expert terrains in Deer Valley.
ABODE AT BLUEBIRD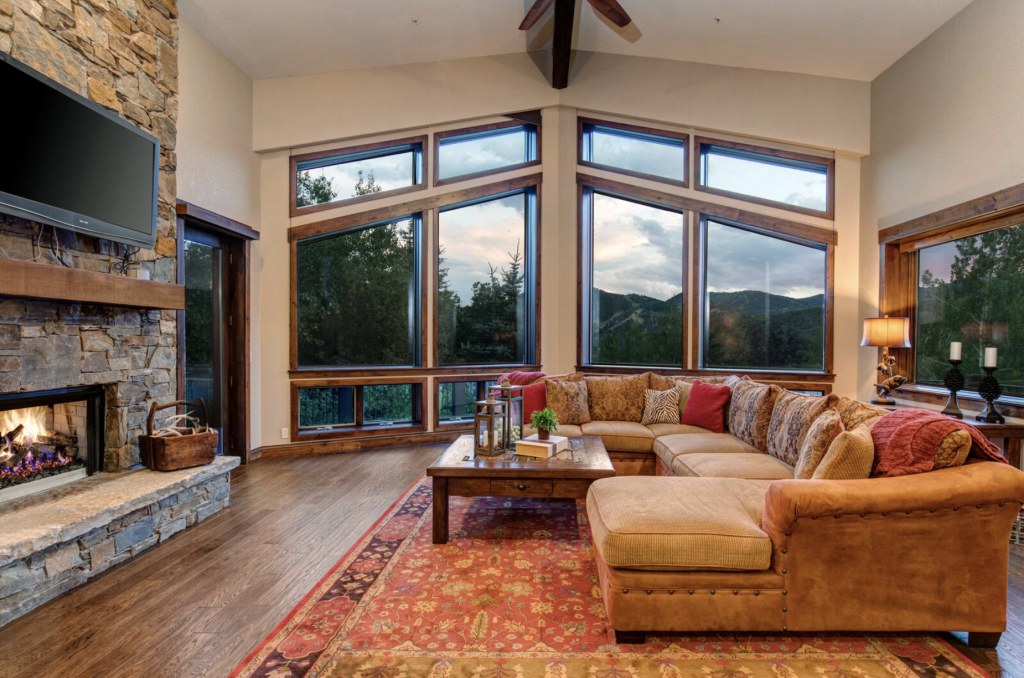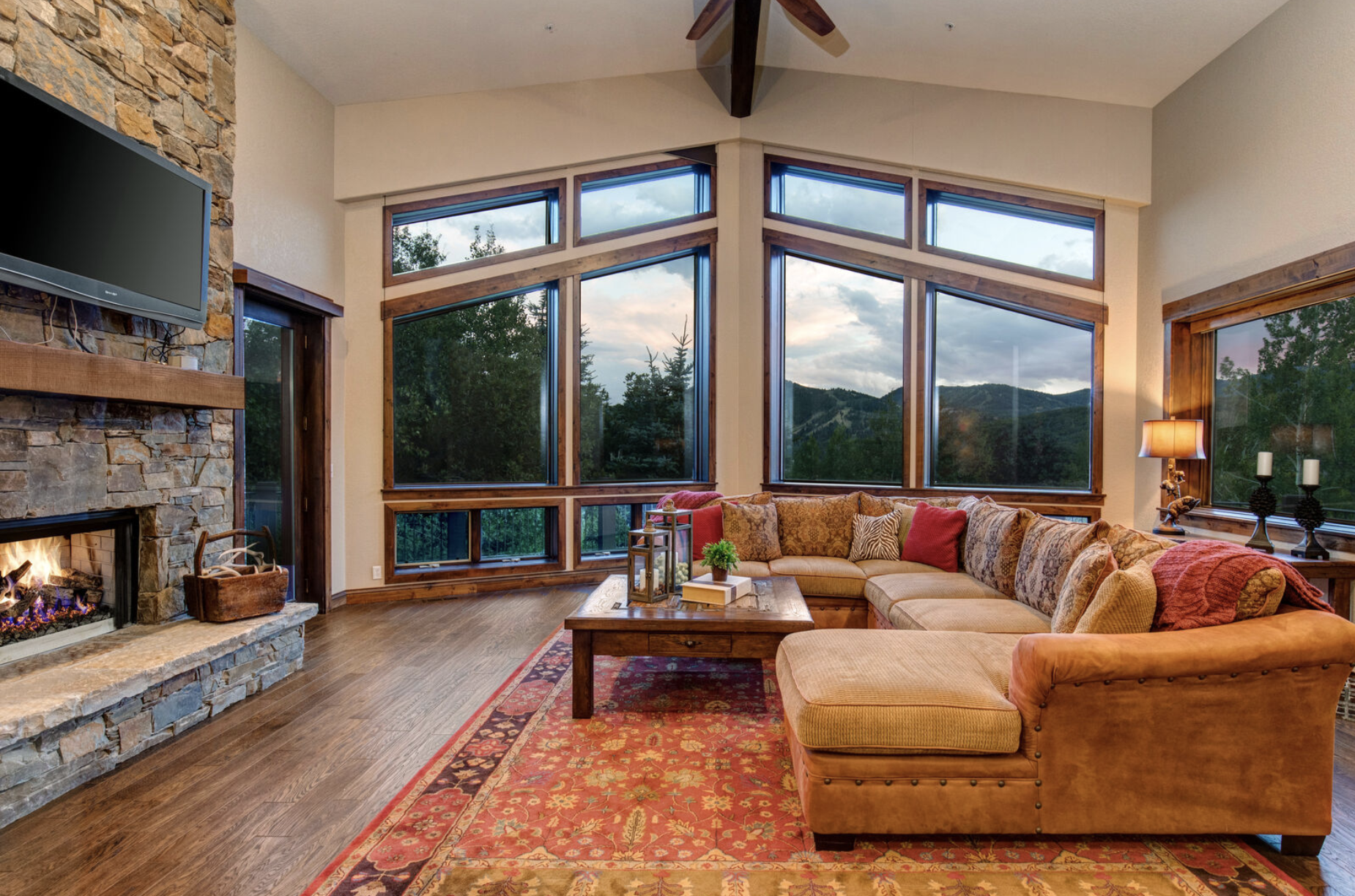 Abode at Bluebird is a fabulous family ski home near the slopes of Deer Valley Resort with spectacular views of Park City and Deer Valley. Enjoy this property with its big picture windows, floor-to-ceiling stone fireplace, game room, plus many other amenities.
ABODE AT KINGS CROWN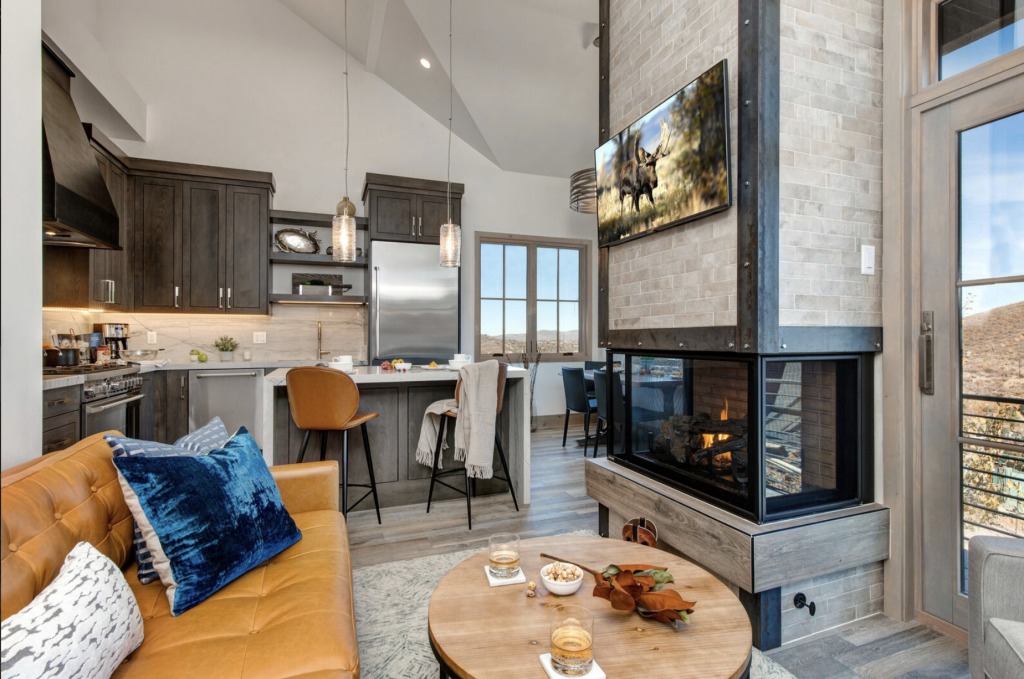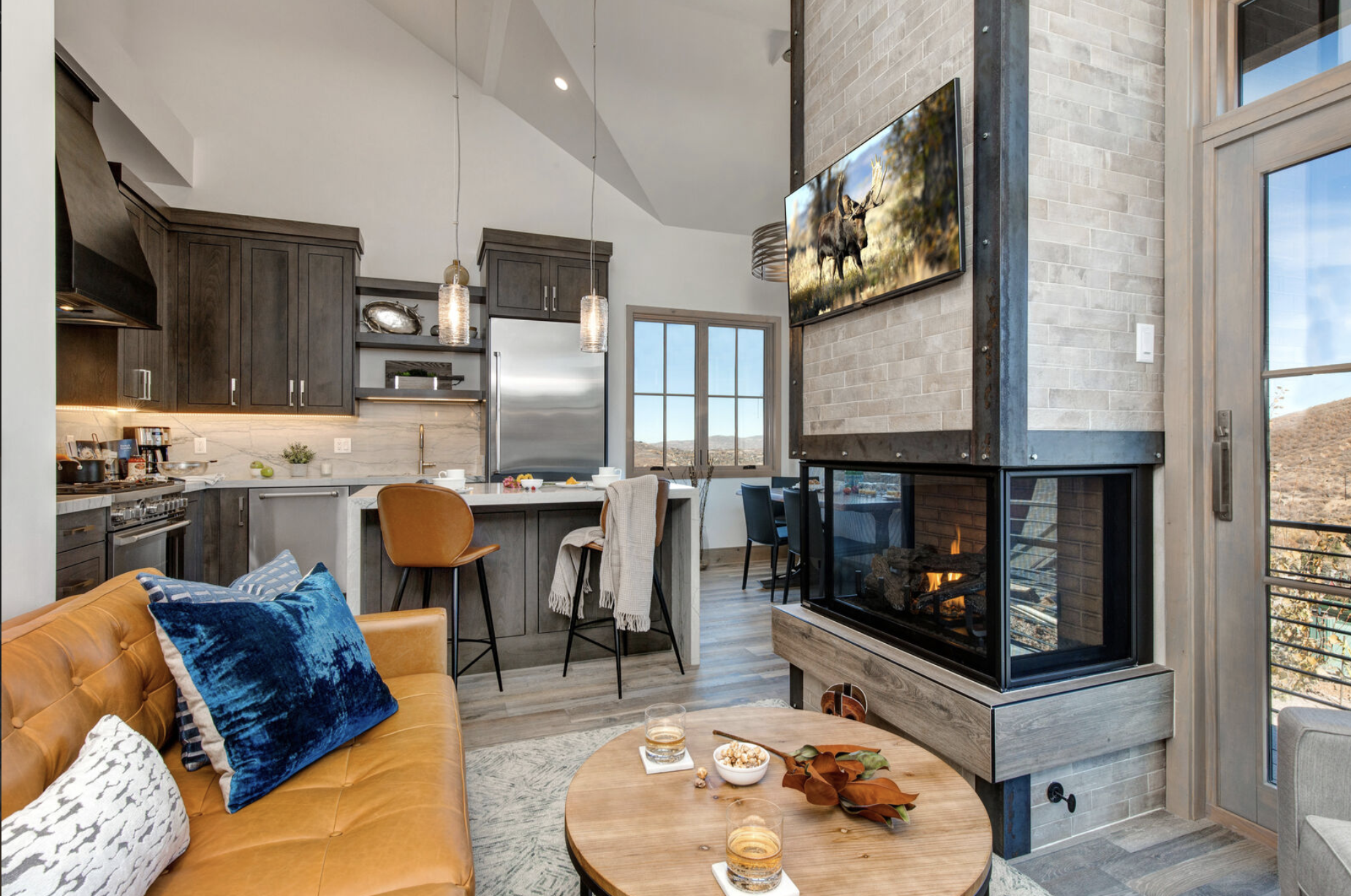 This brand new custom-built home is nestled at the base of Park City Mountain Resort in the last community to ever be built directly on the resort. Abode at King's Crown is part of a brand new slope-side community, offering a unique living space that will provide you and your family with a gateway to world-class skiing right out your front door as well as being in close proximity to Park City's iconic Main Street. When you stay here you have the added perk of being able to ski home for lunch! **Please note that the surrounding development is under construction through winter 2021/2022.
As locals, our employees are a wealth of knowledge so we've tapped into their mountain town intellect to bring you some of their favorite hidden gems to help you live like a local, whether you're visiting for a week or a month, and create experiences of a lifetime during your winter vacation in Park City!
IF SOMEONE HAD JUST 24 HOURS TO SPEND IN PARK CITY, WHAT WOULD YOU RECOMMEND AS A CAN'T-MISS WINTER EXPERIENCE? 
"If you only had just 24 hours to spend in Park City this winter, I would recommend stopping by the Utah Olympic Park and taking a ride down the bobsled track, skiing from coast to coast at PCMR, or taking a sleigh ride to the Viking Yurt at Park City." – Chris Beckett, Assistant Property Manager
"I always recommend the skier's buffet at Stein Eriksen Lodge!" – Blane Bossung, Operations
"For more experienced skiers, you can't miss the Interconnect Tour for some of the best backcountry terrain in the Wasatch! For visitors of any skill level, a snowmobile tour is always a great adventure for all!" – Mark Schumacher, Guest Services
"For a truly unique mountain adventure, check out Park City Yoga Adventures Sunrise or Moonlight Snowshoe & Paddleboard Yoga! Bundle up and enjoy a snowshoe trek as the sun rises over the mountains, or under the stars, then defrost & relax as you're transported to a whole other world with paddleboard yoga in the steamy mineral waters of the Homestead Crater!" – Lauren Marshall, Marketing Director
"A can't-miss experience would definitely be catching first chair at Empire Canyon at Deer Valley on a powder day! In the fall, you can't miss leaf peeping that Fall foliage at the top of Guardsmen's Pass." – Brad Pillsbury, Property Sales Manager
"We love a moonlit mountain sleigh ride up to the Viking Yurt on Park City Mountain to enjoy a special meal and unforgettable experience!" – Rachel Alday, Owner
"I personally think you have not fully experienced PC until you've experienced skiing or snowboarding here. We have the best snow on earth! Off the mountain, another can't-miss experience is visiting some of the historic sites and learning the stories that make Park City such a special place, with Mines & Wines or Park City Ghost Tours!" – Morgan Anderson, Guest Services & Office Assistant
"A can't miss for winter would obviously be experiencing Park City skiing & snowboarding! If you're a big mountain biker like me, try it on the snow this winter and rent a Fat Tire bike to cruise Park City's trails!" – Chance Phillips, Assistant Property Manager
"Woodward Park City is a new year-round action sports facility that the whole family will love! In the winter, they offer snow tubing, ski & snowboard terrain parks and an indoor Action Sports Hub with trampolines, foam pits, sports park, ramps & more!" – Rob Alday, Owner
WHAT IS YOUR TOP LOCAL TIP, TREASURED HIDDEN GEM, FAVORITE RESTAURANT, OR CAN'T-MISS COCKTAIL?
"Start or end a night on Main Street with a cocktail at High West Distillery – my favorite is the Dead Man's Boot! For dinner, I always recommend Riverhorse on Main. Their trio of wild game is probably my favorite entree in Park City! For a great beer selection outside of busy Main Street, check out The Boneyard." – Blane Bossung
"Hit up The Spur for live music, good food and a heated patio overlooking Main Street! Seeing a show at the Egyptian Theater is truly a Park City gem! And don't forget to try the skier's buffet from Glitretind at Stein's, it's quite difficult to show restraint!" Mark Schumacher
"I second the Dead Man's Boot at High West! It's a delicious whiskey cocktail made with the local distillery's award-winning offerings, and the best part is you can ski/ride right in under the Town Lift for aprés around their outdoor fire pits." – Chris Beckett
"With so many amazing restaurants in Park City, it's hard to pick just one or two to visit in one day! Make the most of your time here with a Park City Food Tour! This guided tour will take you along our Historic Main Street to sample delicious dishes from award-winning chefs at some of the top Park City restaurants." – Lauren Marshall, Marketing Director
"XC skiers: check out the free XC skiing courses throughout the area. Basin Recreation & Round Valley offer groomed trail systems or take a tour with White Pine Nordic Center. For taco lovers: try El Chubasco for a great post-ride hang out on the patio!" – Brad Pillsbury
"One of my favorite spots to dine for a special night on Main Street is 350 Main, a longtime fine-dining staple of Old Town! The owner, Cortney, will make you feel like family. After dinner, head downstairs to their new Alpine Pie Bar for craft Alpine Distillery cocktails, and of course, delicious pie! " – Rachel Alday
"If you've got a special bottle of wine to pop for a special occasion, or to save on restaurant wine prices, in Utah you can bring your own wine to restaurants (who are licensed to serve wine) and pay a small corkage fee. Best of all, whatever you don't finish you can re-cork and take with you to finish back at home." – Rob Alday
"A hidden gem is visiting Park City in September, as it's technically the off-season and has the most amazing fall colors so you can skip those Sundance crowds. My favorite restaurant is Cafe Terigo where you can't go wrong with their salmon salad on the lunch menu! They also have an amazing Arnold Palmers!" – Morgan Anderson
"Deer Valley Cafe has some of Park City's best breakfast. You can sit outside, overlooking the lake while eating my personal favorite – Bagel & Lox." – Chance Phillips
Well, there you have it! An amazing offering from our local employees giving you the inside scoop on some of the best-hidden gems Park City has to offer!
Start your snow dances! Park City Mountain just announced their highly anticipated update on what winter 2020/21 will look like.
And with great excitement – they are planning to open for winter on Friday, November 20th. Weee!
We can tell that they have been hard at work planning and preparing a great ski and ride season for all, and they will be focusing on three things: safety, having a successful season start to finish, and prioritizing pass holders.
In a letter from Vail Resorts to pass holders, they shared their winter operating plan with opening dates and answers on everything from face coverings to loading lifts to on-mountain dining. But the most important and potentially impactful change is a new reservation system that will manage mountain access and gives pass holders priority access for safety and social distancing
This season will definitely look and feel a little different, but you will have peace of mind knowing you'll have the space you need at the resort and at our Abode Properties.
Read more in this letter from Vail's CEO –> www.epicpass.com/info/letter-to-our-pass-holders.aspx
Some Important Dates:
Pass purchase deadline: September 17th
Opening Day for PCMR/Early season access for Passholders only: November 20th
Mountain opens to non-pass holders with single tickets going on sale: December 8th
Links to Learn More
We will share information about Deer Valley's operations as soon as that information is released.