7:37 pm, July 20, 2021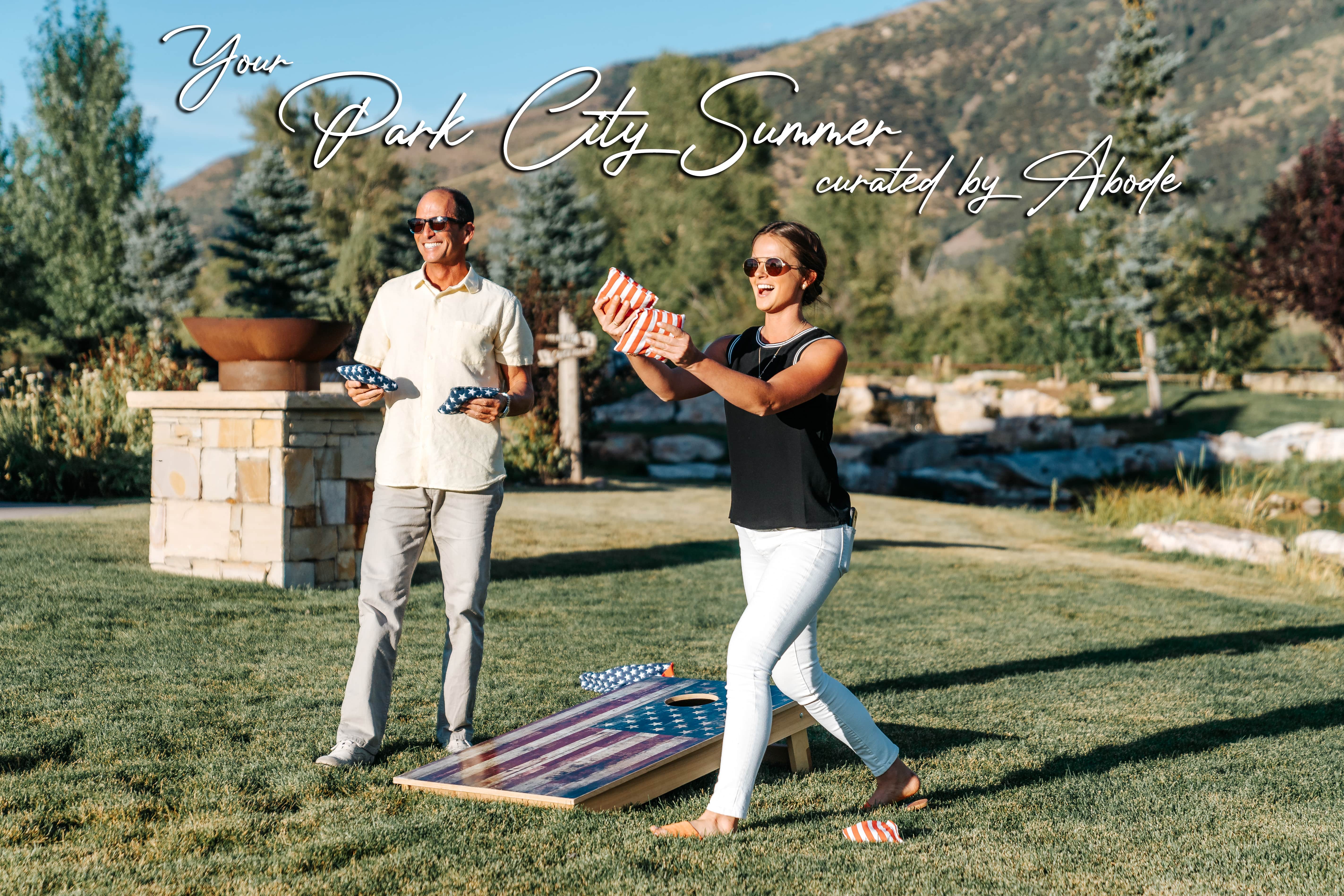 The moments we cultivate in the mountain brings people together in impactful ways, fostering connections and creating stories you will share for a lifetime. This summer in Park City begins with a story at an exceptional Abode that is so much more than just a vacation rental. Space that intervenes with the beauty of nature, overflowing with luxurious amenities and ways to gather together.
Summer is the season for making memories and indulging in the little moments, exploring some of our most unique properties, available for your summer retreat!
NATURE IN DEER VALLEY AREA
Abode at Lucky Star could not be better situated, allowing you to enjoy Park City to its fullest in all seasons. Known for pristine mountains, vibrant ski scene, and miles of biking and hiking trails, this fully equipped luxury townhome sits just steps away from the walkaway to Northside Express and Lady Morgan lifts, making it a great location for trailheads. This Abode has 4 bedrooms with their own private ensuite bathrooms, a private hot tub, grill, outdoor living & entertainment space. These make Abode at Lucky Star perfect for families or groups looking for an escape with room to spread out, accommodating up to 10 guests with over 3,500 square feet of living space across three levels.
Nestled in the heart of Empire Pass at Deer Valley Resort, Abode at Arrowleaf Overlook is a luxuriously appointed slope-side residence. This stunning 3 bedroom, 3.5 bathroom condo features a state-of-the-art kitchen, elegantly decorated living area with gas fireplace and accessibility to some of the most sought after terrain at Deer Valley Resort.
CURATED ACTIVITIES FOR YOUR SUMMER IN PARK CITY
The Snow Park Outdoor Amphitheater is home to 3 unique concert series this summer: Deer Valley Concert Series and 2 nonprofit series, the Utah Symphony's Deer Valley Music Festival and the Grand Valley Bank Community Concert Series. GVBCCS takes place on Wednesday evenings, 5:30 to 8 PM, they are free with required reservations due to limited capacity. This outdoor venue has a gorgeous mountain background and offers hillside viewing from reserved seats as well as a large general admission section. Enjoy family-friendly shows performed rain or shine, guests are welcome to bring picnics, blankets, and chairs less than nine inches high. Abode Picnic Baskets are available for order with our Concierge Team.
Ride up the Silver Lake Express chairlift from the base and explore miles of hiking-only trails from the mid-mountain Silver Lake Village area, or hop on the Sterling Express chairlift at mid-mountain to access the top of Bald Mountain. With even more hiking-only trails available from the top, everyone will find their perfect path.
Or combine the exhilaration of a two-to-three-hour, moderate guided hike on trails through Deer Valley Resort's forests and ski runs, along with the soul-soothing rejuvenation of a one-hour, gentle yoga class in one of the on-mountain lodges. Hike & Yoga will be held on July 17, August 21 and September 18 at 10 AM.
WALKING TO OLD TOWN FUN
Experience the charm of quaint Old Town without sacrificing space, comfort and of course, luxury, from this spacious 2,412 sq. ft. 4 bedroom home in the heart of Old Town Park City! Completely renovated in 2020, Abode at Winter Mooring allows you to live large, offering every amenity a family or group seeks in a luxury mountain getaway. This Abode is within a stone's throw of Park City Mountain Resort's Town Lift and the hub of Old Town's restaurants and shops. Comfortably accommodating 9 adults in beds, and up to 11 guests with additional twin pull out sofas, each of Abode at Winter Mooring's 4 bedrooms feature private ensuite bathrooms.
From the moment you enter Abode at Dawn Patrol, you'll instantly feel at home in the mountains, ready to take on every adventure Park City has to offer! Walk into views of the mountains and Old Town, and dine al fresco year-round on the patio. On a cool Park City night or after a long day hiking, relax your sore muscles in the hot tub located on the back patio. The whole family can sit back and relax, while watching a movie in the living room in front of the cozy fireplace. This home boasts 3 bedrooms, with 3 full bathrooms, and a loft area with a twin/queen bunk bed accommodating up to 9 guests.
Abode at Old Town Overlook features 5 bedrooms with private ensuite bathrooms, encouraging relaxation at this highly upgraded, newly renovated, air conditioned, perfectly appointed 6,250 square foot home, situated on a 2 acre lot surrounded by open space in all directions for maximum privacy and serenity. Take in spectacular views of the sunrise, sunset, historic Old Town, as well as Park City and Deer Valley ski runs. One of the best locations in all of Park City: only 2 minutes to town, local shops, world class restaurants and Olympic slopes. Enjoy a private walking trail from the back door and befriend the many deer and moose who frequent the property grounds.
CURATED ACTIVITIES
SUNDAY IN MAIN STREET
Every Sunday June 6 – September 26 (except August 1, 8, 15) Park Silly Sunday Market takes over Main Street and displays local vendors. Their Mission is: An ecofriendly open air market, street festival and community forum where neighbors and friends come together to celebrate our community of fun and funky Park Sillians. All vendors are admitted based on what type of products will enhance the Market experience. New vendors are welcomed every week to always keep variety at the Market.
DINING IN MAIN STREET
Start fueling your adventures with quality caffeine at Pink Elephant Coffee Roasters, take the time to enjoy a well-crafted cup of coffee in the upper level of 509 Main Street. Coffee, espresso, juice, kombucha, pastries and more!
Walking around looking for lunch or dinner? Cafe Terigo offers fresh and hearty cuisine inspired by Northern Italy and Southern France at 424 Main Street. 501 On Main offers a family friendly casual dinner atmosphere in the upstairs dining room. The Pub downstairs is the perfect spot to watch your favorite sporting event or just enjoy a drink after being outdoors. Live music means Summer in Park City, from solo acoustic acts to rock and roll bands, The Spur serves western fare in a casual and friendly atmosphere. Whether it's dinner, drinks or dancing, they have it all!
FRESH MOUNTAIN AIR AT CANYONS
ABODE AT WILLOW DRAW
Abode at Willow Draw is a luxury townhome located just steps to the Frostwood Gondola at Park City's Canyons Resort and is bordered by two fairways of the new Canyons golf course, an exclusive neighborhood near the base of the resort. Featuring 4 bedrooms and 3.5 bathrooms, there is ample space for a large family or group of friends in the well thought out floor plan, sleeping up to 10 guests. The large deck provides great views of the surrounding mountains and valley, and there is also a private hot tub for you to enjoy.
Make your escape to the mountains and indulge in ultimate alpine luxury with an ideal slope side location to launch any adventure. Located on the 6th floor of the Hyatt Centric, in Park City Mountain's Canyons Village base area, Abode at Alpine Penthouse is designed to feel like your home away from home with the addition of world-class resort amenities and sunny summer trails at your doorstep. Featuring expansive, open living & dining spaces, a fully-equipped gourmet kitchen, cozy fireplaces throughout, and multiple private balconies offering sweeping mountain views to enjoy with your morning coffee & breakfast – It doesn't get much better than this! With four well-appointed suite-style bedrooms, each with private spa-like ensuite bathrooms, this spacious 2,700 square foot condo comfortably accommodates 14 guests with room to spread out, perfect for mountain memories to be made with family or friends.
ABODE AT WASATCH LOOKOUT
Luxurious comfort, thoughtful & spacious design, and panoramic views adorn this 2,800 square foot Hyatt Centric corner unit. Located at the base of Park City Mountain Resort's Canyons Village, with sunny summer trails at your doorstep and an abundance of exclusive resort-style amenities, Abode at Wasatch Lookout is the perfect place to start your next summer adventure or mountain retreat! With 4 bedrooms, 4.5 bathrooms, 5 private balconies, gourmet kitchen and open living & dining areas, this condo comfortably sleeps 10 and has everything you need to escape with friends & family for a ski weekend or a long summer getaway, with the conveniences of a home, plus so much more!
CURATED ACTIVITIES
HYATT CENTRIC AMENITIES
Picture yourself sitting down next to a scenic pool, the sun warming your body, surrounded by an incredible view! The Hyatt Centric allows you to feel welcome at the heated pool and hot tub located on the Main Level. Keep up with your workout routine in the 24 hour fitness center!
OUTDOOR DINING
Exercise your mind and body with the fresh mountain air found right outside your door. Canyons area is located within the Wasatch Mountain Range and surrounded by 9,000 acres of recreational terrain, your adventurous side is sure to come to life! After a day outdoors, let yourself relax and enjoy an exquisitely prepared dish or a refreshing cocktail while basking in Park City's natural splendor. Our properties, like these splendid Black Bear Lodge vacation rentals, offer many balconies for our guests to spread around.
PARK CITY SUMMER